We are still having winter here in Erie but on Saturday morning last week, we had a surprise of a severe snow storm. On that day, we could not get out of the house at all. The snow decided to keep coming down until we had 2 feet high of white wall. With the snow, we also had strong wind and it was very cold! We do hope that that snow storm will be our last one.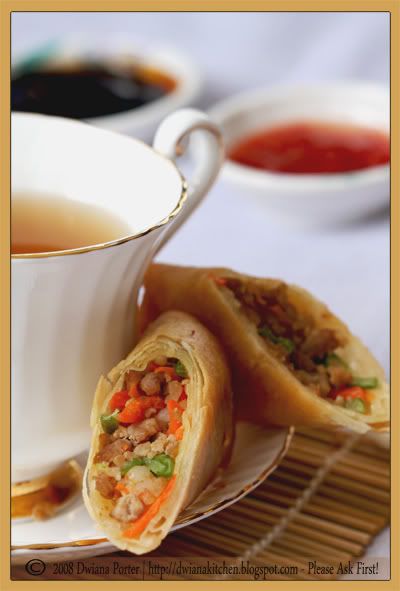 My hubby was busy keeping the house warm and cozy.

Putting more woods in to keep the fire place burning. Cooking, snuggling up, watching movie and playing with our two years old son that were the best things we could do.


Having a cup of hot coffee in the afternoon, it sounds very relaxing. Accompanied by couples of egg rolls. There is no doubt that my husband loves my handmade egg rolls. He kept saying those egg rolls are better than the egg rolls of any Chinese restaurants or grocery stores. Ah ha, that kind of praise will mean that he wants me to make more of them.

Well, that is a little story of our Saturday afternoon during the snow storm last week.


I have been busy lately so I haven't had much time to blog. I have to take some of my spare time to gather all the stories and pictures. I know this excuse is old! I do hope I'll can have more time to blog in the future.

Here is the recipe:

Ingredients:
Spring rolls or egg rolls wrap
Ground chicken
Shrimp (grounded)
Garlic (mince)
Salt
Pepper
Green beans
Carrots
Jicama (Mexican potato)




Directions:
Slightly cut green beans, carrots and jicama.
Stir fry garlic until slightly brown then add ground chicken and shrimp.
Add vegetables (green beans, carrots and jicama) cook until all together blended and soft.
Lastly add salt and pepper.

Take one spring roll wrap and add the filling on the middle of the skin and form it like you make an envelope. Then deep fry it.