In
Indonesia
, it is very common to see street vendors with their small "kitchen".
They are the everyday people who sell street foods like fried bananas, fried tofu and fried vegetables.
"tek tek tek!" if you hear this kind of sound, it means that the banana seller is going to pass by. They usually bang of their frying pans with spatulas to produce that kind of sound. And if you hear this sound and want to buy this street food, you had better call him before he goes too far.
It was used to be about 20 cents for one fried banana few years ago. But I don't know how much the current price is anymore.

Well, since those street sellers are not passing by my house, I have to make those street foods by myself. It doesn't take time at all to make them. It is very easy and it is nice to be served for breakfast.
Every morning, my two year old son never misses eating bananas. So this time I try something different and Oh… I am just so happy because he loves it!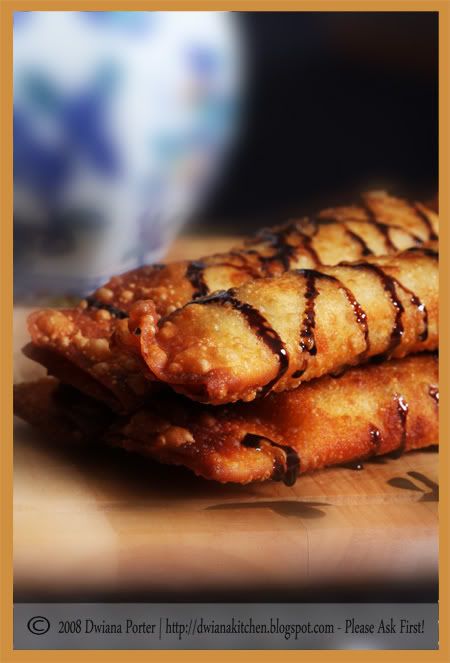 Ingredients:
Bananas
Square wonton skin
Vegetables oil for frying
Chocolate sprinkles
Granulated sugar
Shredded cheddar cheese


Direction:
Remove the banana peels and cut lengthwise into two parts.
Take one wonton skin and fill it with one piece of banana, one teaspoon chocolate sprinkles, one teaspoon granulated sugar and one teaspoon cheese
Wrapped nicely
Wet the edge of wonton skin with water to glue the skin together
Fry bananas in hot oil until slightly brown.


Recipe is adopted from PRIMARASA