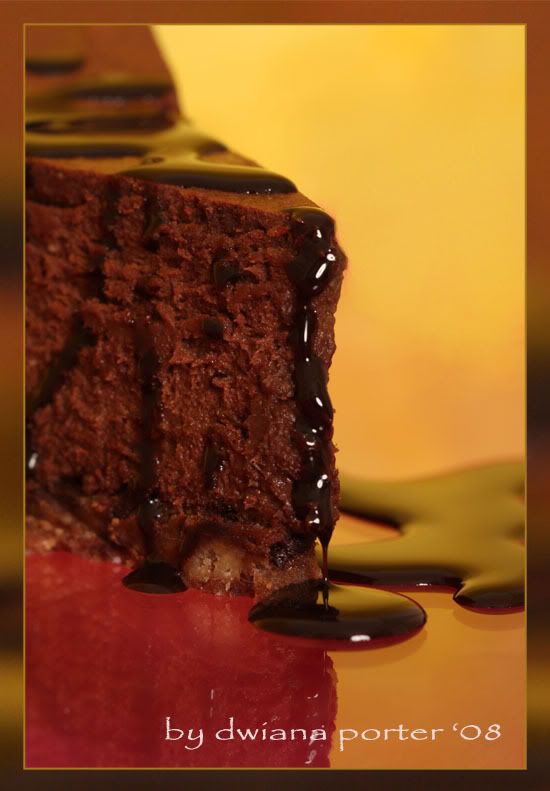 If someone ask
who doesn't like cheesecake?
I will raise my hand!
Yes, I know cheesecake is very popular in America. Most people like it. Somehow I question myself why I don't like cheesecake "I don't know" I am just not a cheesecake person I guess.
BUT
I love to make it!
This time I make chocolate cheesecake. Never make this cheesecake before. Reading a recipe from "Better and Garden Magazine", this recipe really catches my eyes. I have to make it….. Let's go! Then I never feel sorry about making this cake as most of people I served with this delicious cheesecake said

"THIS IS A KILLER"

just like its name!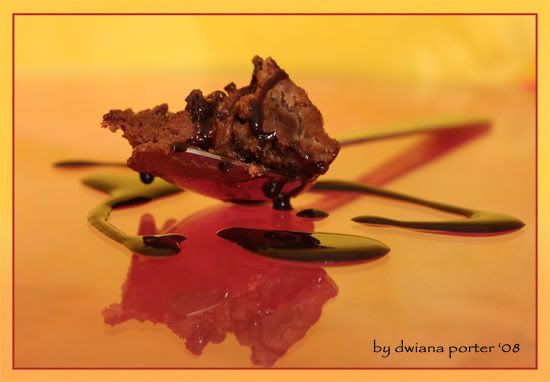 Ingredients:


1 9-ounce package chocolate wafers, broken into large pieces, or 2 cups purchased chocolate cookie crumbs
6 tablespoons unsalted butter, melted
1 pound bittersweet or semisweet chocolate, chopped
¼ cup (1/2 stick) unsalted butter
2 tablespoons unsweetened cocoa powder
3 8-ounce packages cream cheese, at room temperature
1 cup sugar
4 eggs
Dash salt
11/2 cups dairy sour cream, at room temperature
2 teaspoons vanilla
Unsweetened cocoa powder (optional)



Direction:




P

osition a rack in the middle of the oven. Preheat the oven to 350 F. Butter a 9-inch spring form pan and tightly wrap the outside with heavy-duty aluminum foil. Have a roasting pan ready and put a kettle of water on to boil.



F

or crust: Pulse the chocolate wafers in a good processor until finely ground. With the motor running, slowly add the 6 tablespoons melted butter and process just until blended. (Or combine cookie crumbs and melted butter). Press the crumb mixture onto the bottom of the prepared pan.



B

ake the crust for 8 to 10 minutes or until it is set. Let cool on a wire rack.



F

or filling: Set a heatproof bowl over a saucepan of about 11/2 inches of nearly simmering water. Add the chocolate and the ¼ cup butter, and whisk until melted and smooth. Whisk in the 2 tablespoons cocoa powder. Remove the bowl from the heat, and let the mixture cool for 20 minutes.



B

eat the cream cheese and sugar with an electric mixer, beginning on low speed and increasing to medium-high speed, in a large deep bowl until light and fluffy. Add the eggs, one at a time, beating well after each addition. Beat in the salt and chocolate mixture just until smooth, scraping down the sides of the bowl with a rubber spatula as necessary. Add the sour cream and vanilla; beat until smooth, scraping down the sides of the bowl again.



T

ransfer the filling to the springform pan. Set the springform pan in the roasting pan, place it in the oven, and carefully pour in enough boiling water to reach halfway up the sides of the springform pan. Bake for 45 to 50 minutes or until the center is almost set but still slightly jiggly. Do not overbake-the cheesecake will firm as it cools. Remove the roasting pan from the oven and let the cheesecake cool in the water bath for 15 minutes.



R

emove the springform pan from the water bath and let cheesecake cool completely on a wire rack, then remove the foil and refrigerate the cheesecake, loosely covered, until thoroughly chilled (at least 12 hours or overnight).



T

o serve, let the cheesecake stand at room temperature for 20 minutes. Remove pan sides, smooth sides of cheesecake with able knife, and cut into wedges. If desired, sift additional cocoa powder over wedges.



Make 12 to 16 servings.