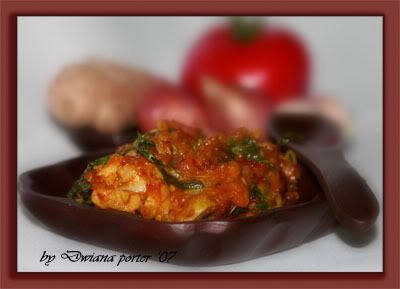 Thai Basil
, this kind of herb is pretty rare to find in my town. Sometime we can find them at Asian market in Cleveland but then we have to drive one and half hours from here. Thanks God, my friend
Sinar
from Seattle sent us some of this Thai Basil. I am so happy; it means I can cook Chicken with spicy sauce rica rica.
Couple weeks ago I cooked fish with spicy rica rica sauce, I didn't make it with Thai Basil and this time my chicken is cooked with one of my favorite herb.
The cooking ingredient and direction you can find
here
. And Thai Basil has to be added at the last minute to keep it flavor.
Two different kinds of photos with different kind of plate are telling you that I cooked this food two times.
You can tell how much I love this HERB!
Gotta cook them before they go bad.